online code portal
Boost transparency and efficiency
with a flexible online code experience
eCode360, the first online code portal of its kind, is specifically designed to house codified laws and municipal information in one convenient location. eCode360's flexibility meets the needs of a wide variety of users from municipal staff, to planners to constituents.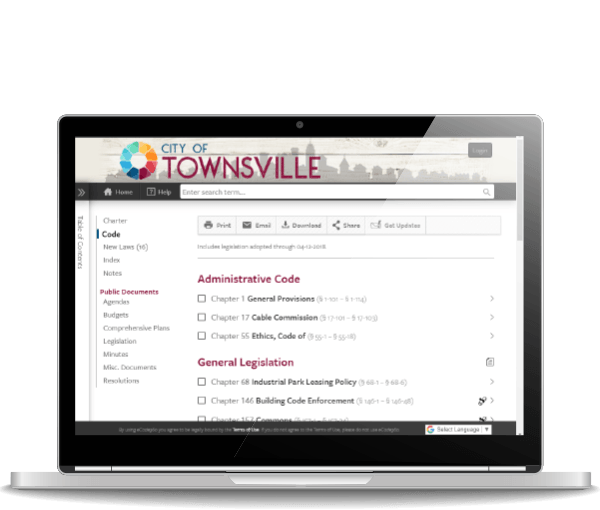 Simplify how you serve your community
Keep your community up to date and informed
Keep everyone in your community connected and engaged with relevant code information including newly adopted laws, public documents and archived content. As your community grows and introduces and updates legislation, we can easily update your eCode so you can be confident you're always working with the most up-to-date code information.
Conduct deeper, more targeted code searches
Advanced search filters help users find more relevant information in less time. Search by keywords, phrases, chapter types — and more.
Answer code questions with speed and accuracy
Multiple sharing options in eCode360 provide quick responses to code questions, saving municipalities and constituents time and boosting transparency. Users can link directly to specific code sections and chapters in emails or social media.
Key eCode360 Features
Access and search PDFs of recently adopted legislation prior to codification. New Laws are automatically uploaded to your eCode, typically within 24 hours of submission.
See how many views your eCode is getting and most commonly searched topics. Manage users and features on your site—or view information about your print books and history of updates.
Use the Multicode tool to locate and search across several codes at the same time to see what legislation other municipalities have adopted. Search by municipality, geographic region, government type or size of population.
Upload public documents to your online code for easy searching and public access.
Learn more about General Code's document management solution >
Simplify offline code access by downloading code sections to a PDF. Or download code content to a Word document for easy editing.
Be completely transparent with constituents by posting selected code content to social media.
View previous versions of your code online. This permanent archive of your eCode is a valuable tool for historical documentation and legal research.
Discover how eCode360 can transform the online code experience for your community.
Explore More of What eCode Offers
free ecode360 search app
Search thousands of codes on your mobile device
Take our 3000+ online municipal codes with you wherever you go! The only app of its kind, our eCode Search App gives you a powerful way to access and search General Code's robust eCode360 library on your Internet-connected phone or tablet.
ecode360 api
Stay connected to your online code through your own applications
General Code's eCode360 API allows our partner communities to seamlessly integrate content from our proprietary eCode360 online code portal into their own systems and platforms – including those from 3rd party providers and developers or other vendors. By leveraging code as data, the eCode360 API provides a reliable live connection to information housed on eCode360 via the applications local governments already use. It also eliminates the need to import code information manually, which can save municipalities valuable time and resources. The eCode360 API can be an important tool for keeping citizens connected and municipalities running efficiently, all without time-consuming or potentially costly system upgrades or reconfigurations.
Want to learn more about the use of APIs? Check out our blog.
Need instant, integrated access to the International Code Council's I-Codes? ICC Code Connect™ API provides organizations with seamless digital access to the latest building code requirements within their workflow applications. Learn more.
ecode360 Professional subscription
eCode360 is not just for municipal staff. Now other professionals can "Go Pro" with a Professional Subscription
An eCode360 Professional Subscription empowers architects, engineers, realtors, attorneys, and other professionals to access, research and share information from more than 3,000 municipal codes. Take advantage of eCode tools that are not available to the general public — all for just $195/year!
A Feature-Rich Online Code Platform
Responsive and Reliable
Serving over
0
local governments
Over
0
hits on eCode a month